Synopsis
Unable to hear, speak, or wield a sword, Prince Bojji doesn't seem like a typical heir to the throne—and his kingdom agrees. But his fateful encounter with Kage, a shadow on the ground, gives him his first true friend. The two set off on a grand adventure and, together, form a bond that can overcome any obstacle…even being king.
Series Info
📰 Title : Ranking of Kings
🍂 Season : 1
📺 Type : TVSeries (2021-22)
📆 Release Date : Oct 15, 2021
⏰ Runtime : ~23 min
🌐 Network : Crunchyroll
🎭 Genres : Adventure, Fantasy
🏢 Companies : Wit Studio
📚 Content Rating : PG-13
✨ IMDb Rating : 8.6/10.0
🆔 IMDb ID : tt13409432
🍀 Quality : 1080p | 720p | 480p
🎧 Audio : Hindi – English – Japanese
💬 Subtitles : English
🖥️ Screenshots: Click Here
Crunchyroll has started releasing animes in Hindi Dubs and also has reduced their monthly plan to Rs 79/month. If you can support them, please do it. From next episode, we will delay the release by 1 day.
Episodes
---
Episode 1 - The Prince's New Clothes!
Bojji, a prince in a world where kings are ranked by their deeds and skills, is considered unfit to be the next king due to his disabilities. He runs into Kage, a shadow being with whom he can converse, but who also takes advantage of Bojji's kindness.
Watch / Download
Episode 2 - The Prince and Kage!
Kage's tragic childhood following the purge of his people from the Kingdom of Bo is recounted. As the match between Bojji and Daida continues, Bojji's fighting style is denounced as cowardly, and he is instructed by Domas to adopt a more regal style.
Watch / Download
Episode 03 - The New King New!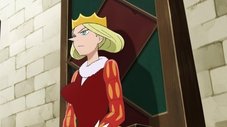 King Bosse passes away, naming Bojji as the next king. However, the announcement of the new king does not go as Bojji expects. After being told that Kage has gone on a journey without him, Bojji resolves to go on a journey of his own, to Hiling's dismay.
Watch / Download
---